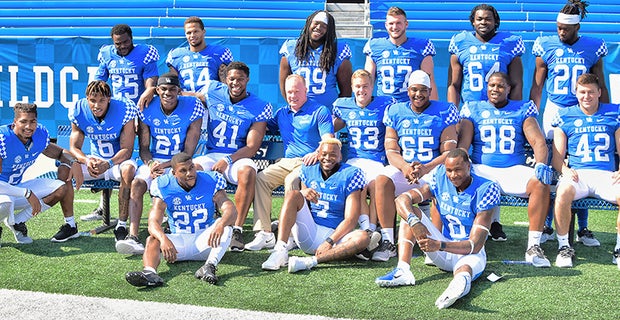 It's crazy to think that there are only two games remaining for Kentucky football this year.  It feels like just yesterday I was sweating out Kentucky vs. Florida.  Senior day is here though and Kentucky's last home game for the year is tomorrow.  This season has had its fair share of ups and downs and I get that most of you are somewhat disappointed with the way the season has ended so far, but we still have two games to cheer on our Cats before they take a month off for whatever bowl game they play in.
It's cold, it snowed last night, the pain of the Duke and Tennessee game is still there, but Kentucky has a great chance to win 10 games (including the bowl game) this season and some of us are disappointed.  I understand why most of us are a little frustrated, but we need to put that aside and go support the seniors tomorrow.  With all of that, here are five things I want to see tomorrow.
A full stadium for the seniors
As I said above, it's senior day tomorrow, which means it will be the last time you all get to see these guys play in person, unless you're going to the bowl game.  It's going to be cold, early, and we're playing Middle Tennessee State, but that still doesn't mean all of BBN shouldn't be out there to say goodbye to our seniors.
An explosive offense
Ever since the second half of South Carolina, Kentucky's offense has looked stagnant.  To go further, Kentucky hasn't scored more than 15 points since putting up 24 against the Gamecocks.
I want to see Eddie Gran open the playbook and mix things up tomorrow because the last thing we need is another game where we are ready to kill him.
Benny Snell to be his old self
The last three games have not gone according to plan for Kentucky's star RB as he has totaled only 221 yards rushing.  One of the main reasons why Kentucky hasn't been able to get the offense going is because the running game hasn't been as affective as it was in the first part of the season.
I would love to see Benny run for 120+ tomorrow which will help Terry Wilson in the passing game.
Lynn Bowden returning punts
For nearly the whole year, David Bouvier has been returning punts for the Cats and Lynn Bowden has only come in if the Cats need a spark.  I want to see Stoops throw Bowden back there more because I have a hard time believing MT State will be able to stop him.
They won't be able to.
A WIN
Good lord it feels like it has been 4 years since Kentucky won a football game.  After two depressing losses, this team and this fan base needs a jolt.  I'm not saying that'll happen when the Cats win tomorrow, but it will help us all.
Wouldn't mind a blowout either.
Go Cats.