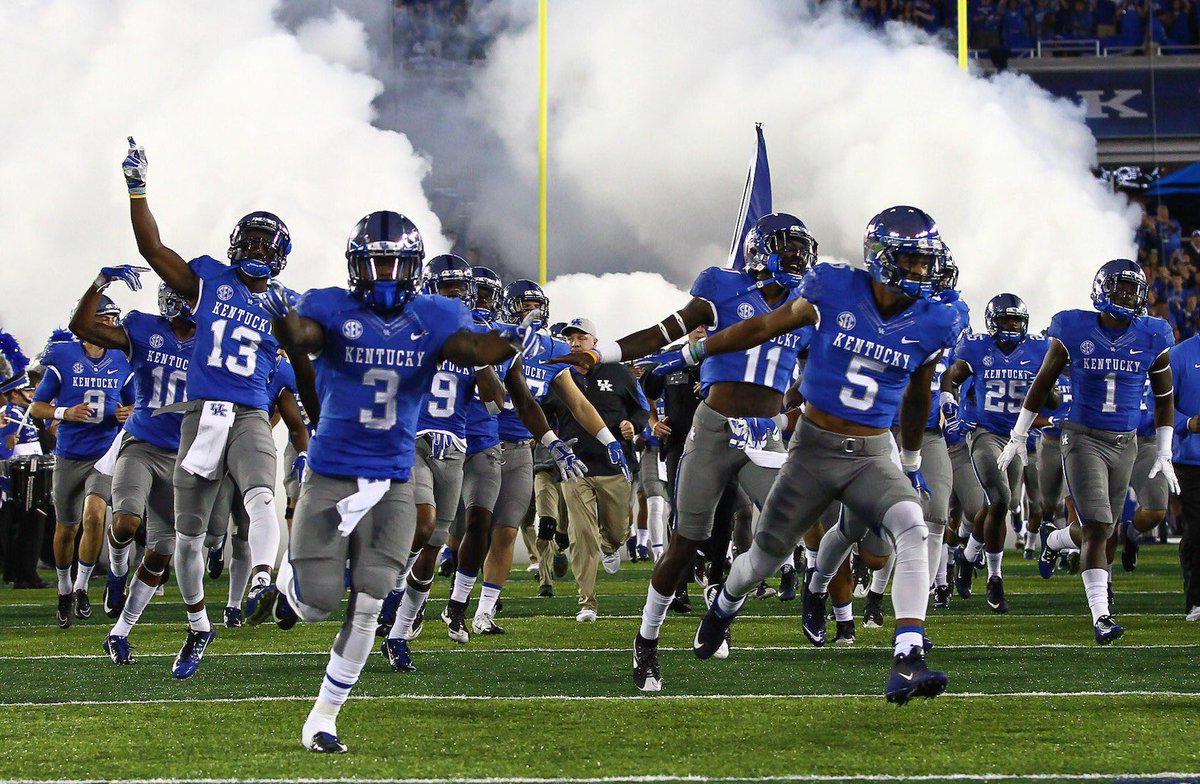 With Kentucky's 2018-19 football season just two days away, I thought I would go back through the books so we could relive some of UK footballs best moments to get us even more excited about the upcoming season.  Sit back, relax, and enjoy.
Tim Couch to Craig Yeast: Kentucky vs. Alabama 1997
Kentucky had not defeated Alabama in 75 years.  The Tide came to Lexington ranked 20th in the country.  Tim Couch hit Craig Yeast in overtime to give Kentucky the 40-34 win over the Crimson Tide.  Goal-posts came down.  Fans went nuts.
Stevie got loose: Kentucky vs. Louisville 2007
One of the best moments in UK football history.  Kentucky had not beaten Louisville in four years and their was a lot of disappointment around the program.  Louisville came into Lexington ranked 9th in the country.  Kentucky had not beaten a top ten team at home in 33 years.
Number one goes down: Kentucky vs. LSU 2007
LSU came into Lexington as the best team in the country.  Kentucky was off to a 5-1 start and the #17 team in the country.  Kentucky had not beaten a number one team since 1964.
Mike Hartline to Randall Cobb: Kentucky vs. South Carolina 2010
Kentucky had never beaten Steve Spurrier and the Gamecocks came into Lexington as the #10 team in the country.  It was one of Joker Phillips' signature wins.
The streak ends: Kentucky vs. Tennessee 2011
Kentucky had not beaten Tennessee in 26 years but Tennessee was having problems of their own.  Matt Roark replaced an injured Morgan Newton and Maxwell Smith at QB.
Bud Duprees pick-six: Kentucky vs South Carolina 2015
After Joker Phillips was fired and Mark Stoops was hired, Kentucky had just come off another 2-10 season.  Kentucky was 3-1 with the opportunity to grab a signature with the Gamecocks coming to town.  They didn't disappoint.
Austin MacGinnis field-goal: Kentucky vs Mississippi State 2016
Kentucky was having a very disappointing year.  After starting 0-2, Kentucky was able to win three out of its next four to have a 3-3 record.  If the Bulldogs beat UK, their chances of making a bowl game are very slim.  Austin MacGinnis saves the day and the season.
Mark Stoops' best win: Kentucky vs. Louisville 2017
After coming back from a very bad start to the season, Kentucky was 6-5 traveling to Louisville to face the #11 team in the country, as (I believe) a 24 point underdog.  Louisville had the Heisman Candidate in Lamar Jackson and a 9-2 record with a slim chance at making the CFB Playoff.
Goodnight and go cats.