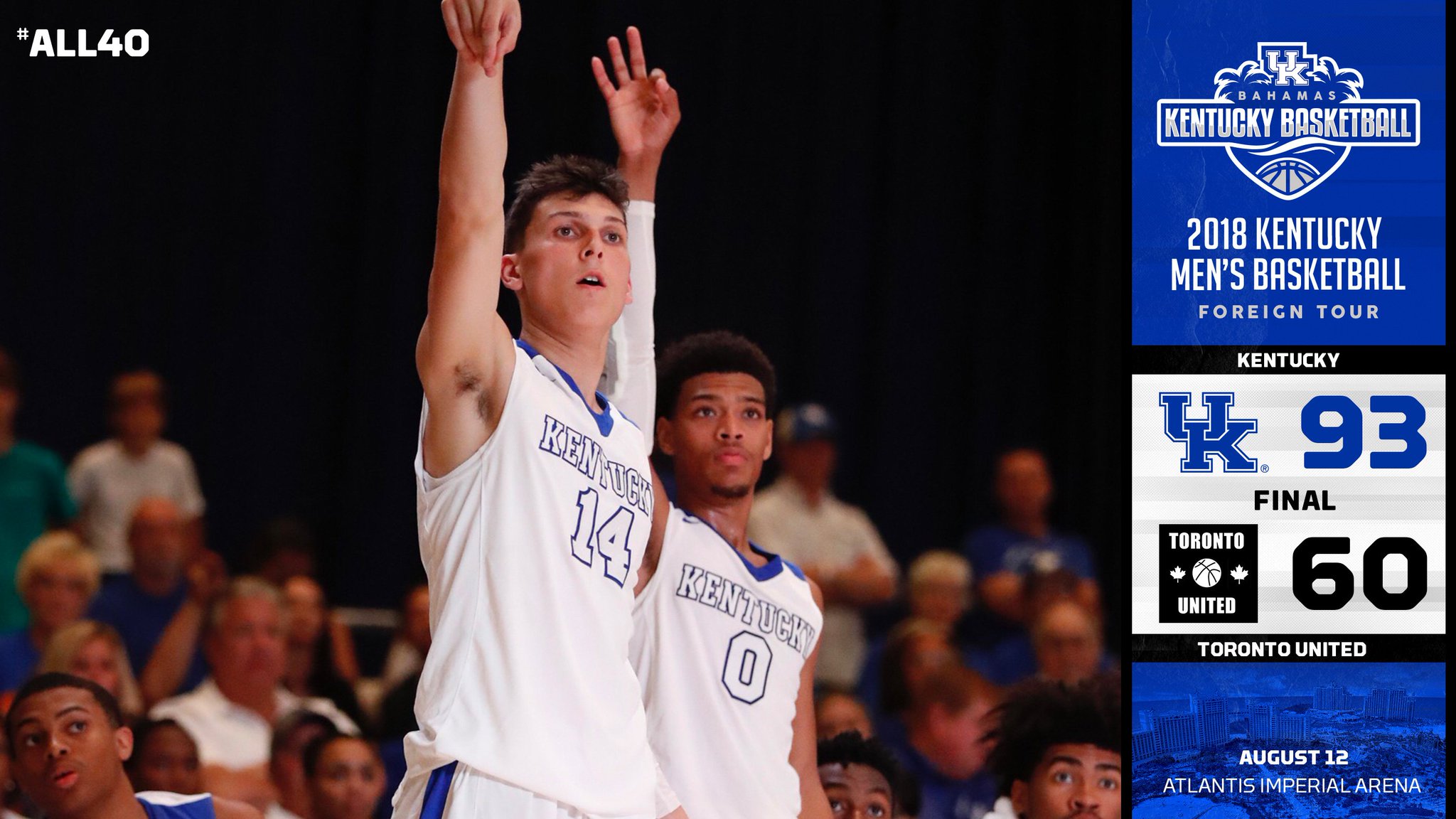 Well, that was a lot of fun… wasn't it?  The 2018 Bahamas trip for your University of Kentucky Wildcats has come to an end.  Four games, four blow-outs, and a perfect 4-0.  I didn't think this team would look this good, and I know a lot of other people didn't.  And we were all wrong, thank goodness.
There were a ton of positives to take away from this game.  Let's take a look.
Five guys in double figures
Five Cats were in double figures tonight:
Keldon Johnson: 13 (6/10, 1/2 3pt)
Tyler Herro: 15 (4/7, 2/6 3pt)
Reid Travis: 19 (7/14, 2/3 3pt)
PJ Washington: 13 (4/7, 2/2 3pt)
Quade Green: 14 (6/9, 2/3 3pt)
If Kentucky has five guys in double figures, they're going to be very hard to beat.
Reid Travis
Hey, finally! Reid Travis had a great game.  Travis was 7/14 from the field including 2 threes, 15 rebounds, and 1 block.
We'll take that stat line from him all year long.
The win
I thought for sure this would be a loss for Kentucky.  You factor in this game being the fourth in five days, Team Toronto being good, and maybe what they did yesterday, I thought this would be a guaranteed loss.  Shows what I know.
For them to blow out all of these teams and to, except for the first game, dominate every game.  Very, very impressive.
Moving forward
Kentucky will head home, start practice, and start class.  Would love to be a fly on the wall in the upcoming practices.
I would love to go straight to Indy to watch Kentucky vs. Duke.  Wasn't sure Kentucky would be able to handle the Blue Devils, but, after these four games,  I would tell Duke to watch out.
Here are tonight's game highlights
Goodnight and go cats